The "Deutsche Gesellschaft für Ortho-Bionomy® e.V." (DGOB)
The German Association for Ortho-Bionomy (DGOB) was founded in 1992. From the beginning, its stated goal has been to promote Ortho-Bionomy as a treatment method and to provide opportunities for qualified training and exchange to those who use it. The association is based in Cologne. In terms of membership numbers, it is the largest Ortho-Bionomy association in Europe.
DGOB Tasks and Objectives
The Deutsche Gesellschaft für Ortho-Bionomy e.V. (DGOB) is an umbrella organization for Ortho-Bionomy Practitioners in Germany. It provides information about opportunities for training and professional development in Germany and abroad, maintains listings of DGOB-registered Practitioners, and represents Ortho-Bionomy's interests in the public.
For detailed information on the DGOB's tasks and objectives, please refer to the DGOB Charter.
DGOB Structure
The DGOB is led by four board members and is centrally managed from the Cologne office. These are the current DGOB board members:
Annegret Dörr (1st Chairperson)
Stephanie Heckmann (Vice-Chairperson)
Christine Glumann (Treasurer)
Eduard Pfeifle (4th Board Member)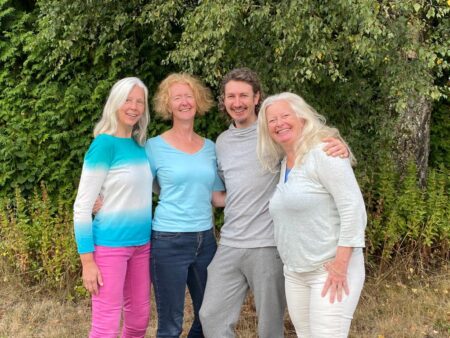 The DGOB Board Members (from left to right) Stephanie Heckmann, Christine Glumann, Eduard Pfeifle and Annegret Dörr.
Well Connected
The DGOB is connected with other organizations at home and abroad. It works closely with the Ortho-Bionomy® European Association of Teachers (OBEAT) and the Society of Ortho-Bionomy® International (SOBI) and is also a member of the Berufsgenossenschaft für Gesundheitsdienst und Wohlfahrtspflege (BGW), the German Employers' Liability Insurance Association for Health Service and Welfare Work. The DGOB is also a member of the Deutschen Jugendherbergswerk (DJH) Landesverband Rheinland, a regional section of the German Youth Hostel Association.
Becoming a DGOB Member
Learn about the Advantages of a DGOB Membership. There are different Types of Membership available.
Once you have decided which type of membership you would like to sign up for, simply fill in the membership application form, sign it and send it to:
DGOB Office
Annegret Dörr
In der Aue 93
50999 Köln
DGOB Charter
Members Get More
Members can log in to the Members Area, which provides an abundance of additional information.
Login Page